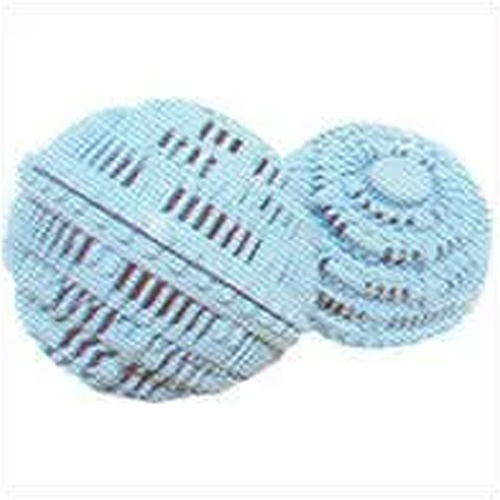 Laundry Ball Free of Detergent
Product Code : 11
Product Description
Bio Ceramic Laundry Washing Ball
Laundry Ball Free of Detergent
Features
1.

This is designed with round shape in order to minimize the damage of laundry.

2.

This is very hygienic through the influence of its excellent antibacterial effect (eliminate
bacteria and mold etc) to the inner of washer capacity and laundry as well as increase
the cleaning effect of water.

3.

Also, this can clean clothes and laundry without any detergents by lowering surface
or interfacial tension.

4.

This rubbing effect of water and laundry increases the cleaning and deodorizing power by activated water through the influence of wavelength energy of far infrared rays and etc.
which it is contained-functional ceramic ball to emit

5.

As compared with normal washing process, we can obtain following effects by reducing the use of synthetic detergent: water-saving, electric energy-saving and time-saving and etc. So this is very economical and pro-environmental. In addition, this is helpful to prevent the damage of clothes and skin trouble to be able to occur by remaining detergent in clothes after washing.
How to Use

| | | |
| --- | --- | --- |
| | 1. | Just do your Laundry as you normally would. |
| | 2. | If you use Bio cera Laundry washing ball, You don't need to use detergent or fabric softner again! |
| | 3. | Use two sets of Biocera Washing Ball to enhance the washing effect when the laundry exceeds 8.5kg. |
| | 4. | Dry Biocera Washing Ball for better performance and the longer life of the ball after the laundry if possible |
| | 5. | Biocera Washing Ball has softening and bleaching effect itself. But you may use together with softening or bleaching materials. |
| | 6. | In a normal situation, the effect of the Biocera Washing Ball will last for the two or three years after the first use. |
Contact Us
Plot No-9 ,Navjeevan Industrial Socity, Nr. Sosyo Circle ,B/s Unique Hospital, Udhana Magdalla Road, Surat, Gujarat, 395007, India
Phone :+918068213329