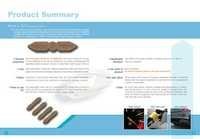 Fuel Saver (Petrol / Diesel Saver)
Product Description
FUEL SAVER (PETROL / DIESEL SAVER)
Saves fuel cost!!!
Reduces air pollution!!!
1. About Product
Fuel Saver is a patented brand‐new product specially designed to save fuel cost and reduce
contaminants.
For these days of fuel cost going higher and higher & CO2 reduction regulations imposing, what
is important to consider, beside choosing good car or auto, bike, what's important factor to
maintain it is fuel cost and contaminants reductions. Under the circumstances, Fuel saver has
been developed through 5 years research and development.
Fuel Saver offers semi‐permanent additive solutions to the higher fuel cost and air pollution by its
patented technology.
Fuel Saver enables to save gasoline or diesel consumptions
Fuel Saver enables to reduce contaminants
Fuel Saver enables to increase power of the engine
Fuel Saver is a device that guarantees smaller fuel consumption. Fuel Saver is easy to be
put into motorcycles, vehicles, trucks, ships, etc., of any type and any year. Free of maintenance
and modifications, the installation is very simple, is not necessary to cut or to make adaptations.
Just put it into the fuel tank. Fuel Saver enables to save between 6% ~ 36% of gasoline or diesel
consumptions, reduce contaminants by 47.9% ~ 56.3 % and increase 26.10% of the power of the
engine.
2. Product Specifications
Fuel Saver works on cars, trucks, motorcycles, ships, industrial engine internal combustion engine.
Its technology is proven to significantly reduce fuel costs for years for engine life‐long.
􀁺 Specifications
Features: Saving fuel consumptions / Reducing contaminants / Increasing power of the
engine
Emitting: Far Infrared Rays & Anion
Capacity: 500 cc / 1 piece
Size: 1.7 cm x 8.2 cm x 0.5 cm
Weight: 32 g / piece
Benefits
More miles to go by a liter
Reduces the toxic gas emission
Increases the power of engine
Goes with engine life‐long
Free of Maintenance
It contains far infrared rays and anion that work to break down the fuel molecule smaller
and smaller and help better consumption in engine and smaller and help better consumption in enginearranty: 5 years
Contact Us
Plot No-9 ,Navjeevan Industrial Socity, Nr. Sosyo Circle ,B/s Unique Hospital, Udhana Magdalla Road, Surat, Gujarat, 395017, India
Phone :9374125257