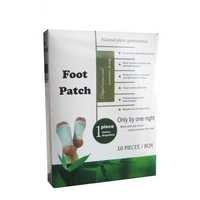 Foot Patch - Detox Patch
Product Description
FOOT PATCH (DETOX PATCH)
Specifications:
1. 100% natural ingredients
2. FDA certificate
3. real manufacturer in SJZ city
4. OEM Detox Foot Patch(FDA)
Product Description:
If you suffer from aches and pains, poor circulation, difficulty sleeping, tiredness or are often on medications, have poor eating habits or a smoker, you may need to detoxify your body.
The Sure-safe Foot Detox Patch is used to naturally remove toxins from the body and promote a stronger immune system using reflexology and acupressure based on chinese principle, that has been used for over 1000 years. They contain an all natural combination of wood vinegar, bamboo vinegar, chitosan, dokudami, loquat leaf, vitamin C,vegetable fiber, tourmaline, & dextrin. Simply apply the patches to the bottoms of your feet, before you go to bed, and remove them when you wake up. When you wake up you will feel vitalized detoxified and fresh.
These Foot Detox Patches help to cleanse your body's waste products in an easy, trouble-free and painless way. The color of the patches will change according to the condition of your health. Those with health problems will notice the sheets are initially darker the following morning. With regular use, the sheets will progressively get lighter and lighter, indicating a steady improvement in your health. The patch can also be applied to specific problems on specific parts of the body, such as the wrist, knee, shoulder, ankle, and groin.
Usually you would do a 5 day course for healthy individuals, while people with sevare health problems and high toxin levels may need a 25 day course. Each packet contains 20 patches (enough for 10 detox sessions).
Esstential Component:
Wood Vinegar,Tourmaline,Eucalyptus,Agaricus Mushroom,Chitosan,Cornstarch.
Using Direction:
1. Clean foot
2. Attach the foot patch onto your vola (the non-woven fabrics side should touch your skin) before you go to bed. We strongly recommend you to use the foot patch when you are sleeping. Because when you are lying down, every part of your body will be on a same level, in this situation, the blood circulation will be much easier. Therefore the detox foot patch can absorb more toxins when the blood flew through the vola.
3. In the morning, remove the foot patch, and use warm clean water to clean your feet. According to your health status, the color of the foot patch will be different. When your health status is bad, the color will be darker. When your health status getting better, the color will be lighter. If you did not ever use the detox foot patch, please continuous use it for 3 months. After the 3 months, you can use the foot patch 2 times a week at least, in order to keep you fit all the time. When your health situation is not good, use it everyday until your health status changed into good situation again
Applicable People:
1. The people who love beauty and slim
2. The people who have health problem such as:
Astriction, halitosis, body odour, foot odour.
3. Semi-healthy people.
4. The people who use computer for long time
The people who have big working pressure
5. The people who stand or work for long time
6. The people who is suffering neck, shoulder, waist pain
7. The people whose leg or foot pain and swelling
Contact Us
Plot No-9 ,Navjeevan Industrial Socity, Nr. Sosyo Circle ,B/s Unique Hospital, Udhana Magdalla Road, Surat, Gujarat, 395017, India
Phone :9374125257